To learn more about Anna Odom, click on the links and check back often more more added interviews and content!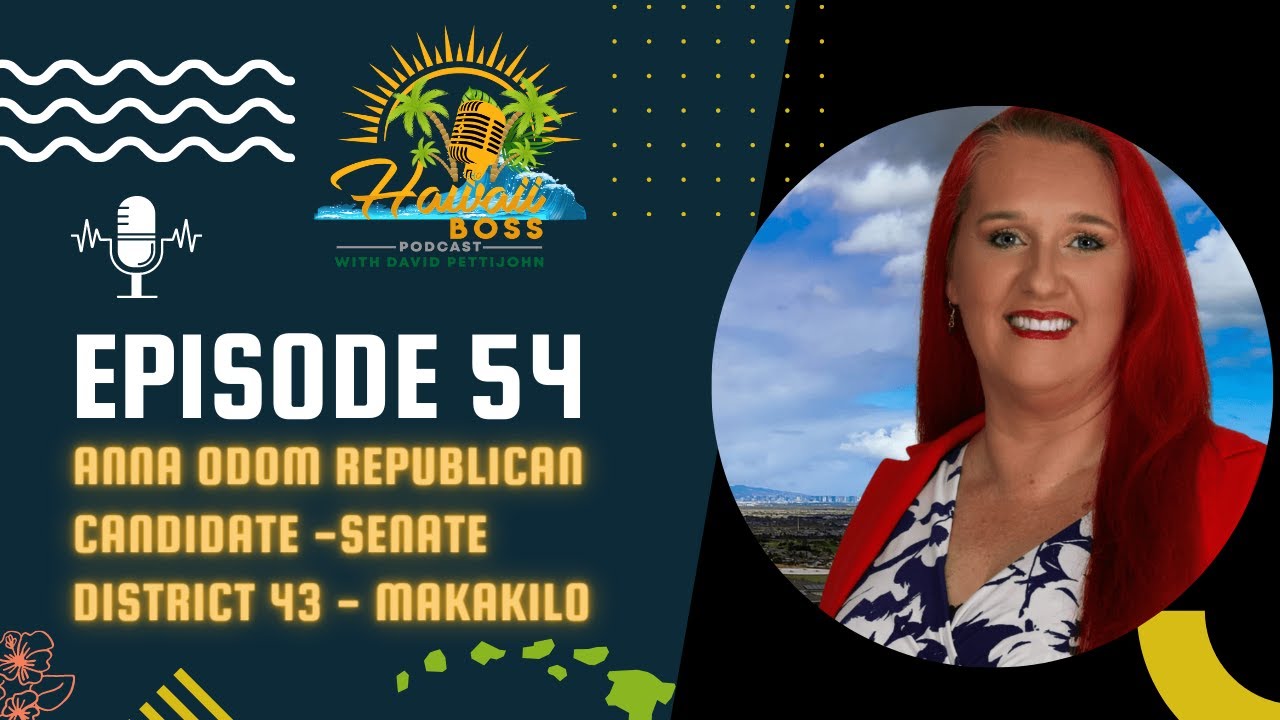 District 43 is growing and so is the crime. We need to work together to enhance police and commuunity relationships. Public service announcements, community events that involve ineracting with our local officers to establish a real connection with the people they serve. A new station in the Ewa and Waianae area would help eleviate the pressure off of the Kapolei Department. Programs to help identify students with the potential to work in law enforcement upon entering age of qualification. The goal is to help keep officers local and connected to the communites they serve. These are just a few things we can do to manage the growing issues of our District.

Homlessness & Cost of living

This is a huge issue to tame and is going to take resources, coordination and all hands on deck to tackle. Community suggestions and solutions need to be heard and considered. There is no one blanket method to take this all on. We need legislators ready to listen with compassion and act with sensible solutions that benefit as many as humnaly possible. Our appraoch needs to consider so many variables like mental health, drug addiction, cost of living, the aftermath of a two year shutdown. The first thing we need to do is identify those who we can help that are displaced due to shutdowns. There needs to be a way to get these folks back into a home without spending $10,000 or more on first, last months rent and other deposits thatmay be necessary to move in to a fully fuctuional home. Credits and breaks for home owners who use their home to accomodate tremporary rooms for recovering addicts. Provide resouces to these home ownsers and their tenants with specific requirements to enable a sober and sucessful life. Lastly, we need to readdress mental health issues and making professionals more available to those who are homeless. Many of these people are not capable of making their own decisions. This is just a breif over view of ways to provide solutions that meet the specific need based on circumstances.

Education alternatives & Parental Rights

I support parents rights to advocate for their childs best intersts, without being labled a domestic terrorist by the government. A child's first defense is their parents and or gaurdians. Silencing our parents through fear of dangerous lables or arrest is not a position I, or any parent, should be comfortable with. We need to protect the rights of the parents not make them an enemy. We need more communication, more connection with students teachers and parents. Many parents have felt attacked, unheard and lost over the education of their children. Parents should be able to choose the schools best for their child. Children and parents should not be restricted based on their address. However, if we offer the very best for our children and pay attention to the needs of all students and create meanging ful relationships with parents in every district, parents would not need to seek it out in other areas.
Aloha, I'm Anna Odom, you may have seen me around. My family and I moved to Makakilo from South Carolina in 2007. My late husband moved us out here to be closer to his family. We had 11 amazing years here together. He was called home on December 6, 2015. He was killed on Kunia Road while riding his motorcycle headed to our home in Makaha. It was and still is such a huge loss to our family. Out of the 14 years living on Oahu, 10 have been right here in Makakilo. My children were students at Makakilo Elementary, then like most of the kids, they moved onto the Middle and High School in Kapolei. It has been a blessing to beable to raise my children here. We always felt safe and appreciative of living in such a quiet community. Now, four of my grandchildren live in Makakilo. Three of my grandchildren live with us fulltime. Its a little louder these days and safety is becoming more of a rising concern. We are made gaurdians and moved our grand children in right in the middle of the pandemic. Taking on three children in the most restrictive state in the nation has been challenging. I feel the same struggles and pressures many of you face. I see the direction were headed in. I see so many families having to leave. Priced out of paradise and now crime has people on edge. How will our children manage their home state by the time they graduate? Their future depends on the decisions we make today. This is one of the many reasons I am running for State Representative, to ensure a better Hawaii for future generations.
BRING BACK VALUES OF FAITH FAMILY FREEDOM FISCAL RESPOSIBILITY
The most vital part to a campaign is our volunteers. Your efforts help spread the word about our mission. Volunteers help create opportunities for others to join the cause. The more volunteers the more people we reach! Without volunteers a candidate is left with limited support and limited reach to others. Most importantly, when you volunteer you are donating your time. The greatest gift that will be used respectfully. We are looking for volunteers to phone bank, sign wave, a social media team for online exposure and any other volunteer who feel they can bring something positve to the team! Please fill out the form below to become a volunteer for the campaign to elect Anna Odom to State House District 43 Makakilo/Kapolei!